[Construction of document management system]
Purpose of construction
Increase the speed of approval and approval
From paper management to electronic document management
Mail distribution: Automatic distribution to the author
Purpose of sharing internal information (common documents, process instructions, work standards, etc.)
QMS / Document Management System
[What is QMS / Document Management System? ]
A document management system that can be used from a Web browser.
Registered document files are automatically converted to PDF files.
If you have a PDF reader, you can view document files.
We also support customization to meet customer needs.
Details of QMS / Document Management System
[System overview]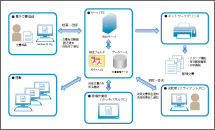 Expiration date management of electronic documents (prevention of death and reserves)
Approval: draft -> pass or reject -> revision -> discard
Mail distribution: Automatic distribution to the author
Security function: Windows Active Directory function
Administrator function: employee master, approval pattern master, department master
For details, see the developer site.