[Integrated production system]

Technical department
In order to manufacture tantalum capacitor anode elements of the quality required by customers, Material,Method(manufacturing method / working method),Machine (machinery / equipment / tool) Environment(working environment / room temperature / humidity) The conditions necessary for production are determined.
In addition, necessary for the quality assessment of the finished anode element,Measurementwill also determine a method and measurement instrument.
The main tasks required for determining the above production conditions are basic technical research, technical evaluation of main materials, design development of new manufacturing facilities, and adjustment to the production line .
In addition, it is necessary to keep track of customer needs and technical information on materials, and exchanging information with customer capacitor manufacturers and material manufacturers is also an important task.
Development department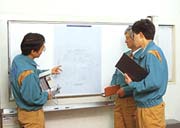 Skills needed to work to say that development is,
1.Wide knowledge
2.Abundant ideas
3.sharp observation ability
We think that.
It is a hard and fun team trying to develop new products.
The current situation is that electronic components are becoming smaller and thinner.
We are developing new manufacturing methods to meet this need.
Manufacturing department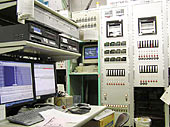 Manufacturing is a department that accepts orders from customers in the sales department, and strives for production with all efforts to answer the delivery date and quality.
For production, a production plan is established so as to efficiently meet the delivery date, and based on the plan, each process creates a product with the aim of improving production efficiency and maintaining or improving quality.
To do this, we will endeavor to manage and improve materials, production methods and production facilities. We think it is important to make the most of each individual person, and We are actively engaged in educational activities.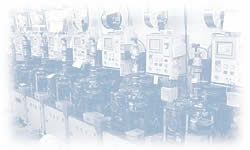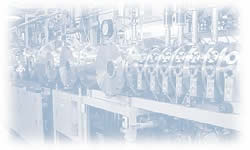 [Tantalum pellet manufacturing process]
01 Powder preparation
In order to make tantalum powder easy to mold, a binder (for adhesion and lubrication) is mixed.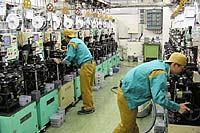 02 Forming
The prepared powder is molded with a special machine to make pellets.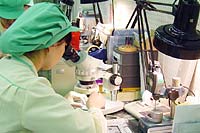 03 Intermediate inspection
Inspects the molded pellets to see if they are finished according to the specifications.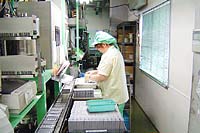 04 Sintered
Sinter the molded pellets in a vacuum. The temperature setting is very important because the surface area and electric capacity of the pellet vary depending on the sintering temperature and time.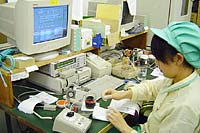 05 Electrical characteristics inspection
Inspect electrical capacity. We confirm beforehand (quality assurance) whether the sintered pellets are finished according to customer specifications.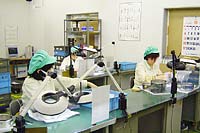 06 Appearance screening inspection
Inspects the pellet for cracks and cracks, and whether the wire is bent or broken.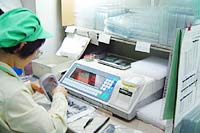 07 Shipment inspection
Weigh the dimensions and number of pellets that passed the inspection.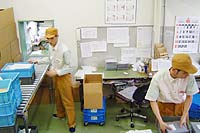 08 Packing / shipping
Packed pellets that have passed various inspections and shipped to customers. Pellets are very small and fragile, and will break if handled roughly. Pack with great care to withstand some vibrations and shocks.